Jeep Wrangler is a great vehicle for any outdoor activity. Its towing capacity can pull small trailers and boats, depending on the engine of the Jeep models.
We spent 48 hours researching to help you figure out how much weight you can safely tow and any other relevant information you need to know through our Jeep Wrangler towing capacity chart below.
How Much Weight Can A Jeep Wrangler Tow?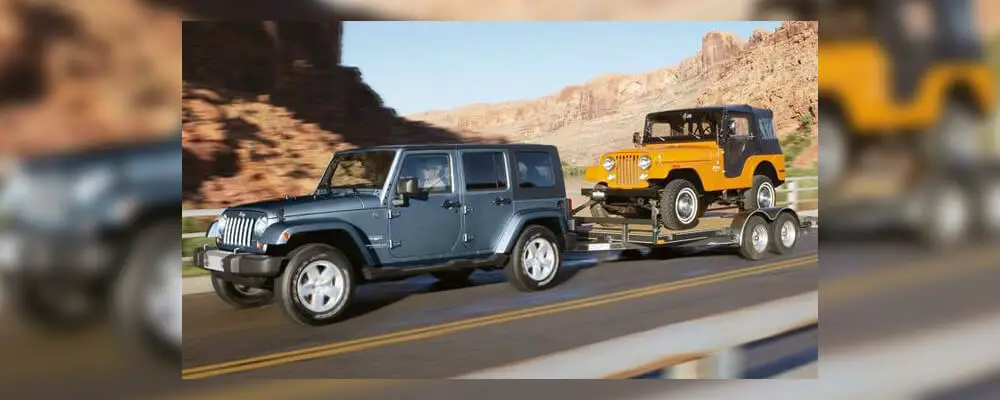 The Jeep Wrangler brand was first built as an arsenal in America, then as a farm tractor, before being developed for daily and adventure activities [1]. With that said, from the 1940 Willys quad, it has evolved from the Jeep Wrangler JK to the latest Jeep Wrangler JL. 
From the Jeep Wrangler YJ with a towing capacity of 2,000lbs, the JK Unlimited and JL have reached a towing capacity of 3,500 pounds. Thus, you can test drive and pull travel trailers and boats with the latest models.
What's Included In A Jeep Wrangler Tow Package?
The vehicle's towing capacity can be determined by standard equipment called the tow hitch. By joining jeep brand events or the Jeep Wave, you can gather more vehicle information (like vehicle delivery date & eligible incentives) about pre-production vehicles or those that are not yet on the dealer's lot. 
Furthermore, owners with VIP access can acquire worry-free maintenance, confidence, and protection with added 5-year coverage for retail purchases. You can also use the optional equipment listed below that comes in the package:
Winch & Control Light Bars

Programmable Aux Switches

200-Amp Alternator

700-Amp Maintenance-Free Battery

7 and 4-pin Wiring Harness

Class-II Tow Receiver Hitch
Jeep Wrangler Towing Capacity Chart

| | | |
| --- | --- | --- |
| Year | Jeep Wrangler Capacity | Jeep Wrangler Unlimited Capacity |
| 2014 | 2,000lbs | 3,500lbs |
| 2015 | 2,000lbs | 3,500lbs |
| 2016 | 2,000lbs | 3,500lbs |
| 2017 | 2,000lbs | 3,500lbs |
| 2018 | 2,000lbs | 3,500lbs |
| 2019 | 2,000lbs | 3,500lbs |
| 2020 | 2,000lbs | 3,500lbs |
| 2021 | 2,000lbs | 3,500lbs |
| 2022 | 2,000lbs | 3,500lbs |
General Towing Capacity & Specs

Two-Door Models
The Jeep Wrangler towing capacity chart shows that most jeep tow can reach up to 3,500lbs. However, the towing capacity of two-door models is only up to 2,000 pounds. 
In addition, it only has a 4 seating capacity with 35.7 inches rear legroom, measuring 166.8 inches long. While it measures the same as the four-door models in terms of height and weight, measuring 73.6 x 73.8 inches.
Four-Door Models
The Jeep Wrangler Sport Altitude and Jeep Gladiator are four-door models with a 5-seating capacity with 38.3 inches rear legroom [2]. It has a towing capacity of up to 3,500lbs. 
Meanwhile, it has a longer wheelbase than two-door models, measuring 188.4 inches long. Thus, this model provides better towing power. 
Features That Enhance Jeep Towing Capacity
Advanced automotive dealer websites offer services to increase vehicle protection. However, before you get your vehicle listed for upgrades or acquire VIP access to brand events, you have to understand all about their registration fees, government fees, delivery fees, and other processing charges. 
Furthermore, discuss options on the list below which your contact dealer offers:
Electronic front sway bar disconnect to provide better working performance

Neutral range option to lift heavy loads on flat surfaces

Trail Brake Controller featuring adjustable brake power

Rear Camera with grid lines for wheel and trailer hitch zoom

Front and rear heavy-duty tow hooks
Jeep Wrangler's Towing Limit
The Jeep Wrangler towing capacity for four-door models like the Jeep Gladiator can reach up to 3,500 pounds if properly equipped, while the new Jeep Wrangler models can have a towing limit of up to 4,000 pounds. 
If you're looking for a higher towing capacity, the Chrysler Dodge Jeep Ram 1500 has a towing limit of up to 12,750lbs. Other short-wheelbase Wrangler is similar to the Jeep Compass, having a capacity reaching up to 2,000lbs.  
Role of Axle Ratio
The axle ratio is one of the most important features that can improve vehicle towing capacity and affects fuel economy. As the axle ratio increases, the vehicle will have better-towing capacity. 
On the other hand, if an automobile increases towing capacity, it will decrease in maximum speed and fuel economy. Meanwhile, vehicles with a smaller axle ratio have better fuel economy but less speed.
Also Read:
FAQs
How much can a Jeep Wrangler tow with a tow package?
The Jeep Wrangler towing capacity with tow package is 2,000 pounds for two-door models and 3,500 pounds for four-door models. However, the 2019 Unlimited model can pull up to 5,500lbs when fully equipped, and the Chrysler Dodge Jeep Ram can pull up to 12,750lbs.
Which Jeep Wrangler 4×4 System is best for towing?
The best system ideal for towing is the Command Trac 4×4, featuring a neutral range option and a lower gear ratio of 2.72:1. Although the 2021 Jeep Wrangler is one of the latest models with a maximum towing capacity of 3,500 pounds, the vehicle's system should be considered before pulling anything.  
Key Takeaways
Jeep Wrangler towing capacity varies depending on the model features, 4×4 system and can be maximized by upgrades. Whether you own a 2021 Jeep Wrangler model or a Chrysler Dodge Jeep Ram, it is essential to be fully equipped when towing for added vehicle protection. 
You may also attend ram brand events and become a VIP owner for worry-free maintenance, confidence in the vehicle build and closely examine the jeep compass towing capacity. By doing so, you will also be informed whether MSRP excludes additional charges, including taxes and the emission testing charge.
Thank you for reading this far! I hope that the information provided in this article will be helpful to you.
References:
https://www.caranddriver.com/features/g15378034/jeep-wrangler-models-history/

https://www.cnet.com/roadshow/news/the-history-of-the-jeep-wrangler/